August 4th, 2017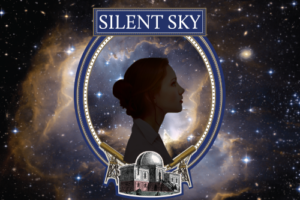 A celestial romance and true story of discovery, Silent Sky explores the life and career of Henrietta Swan Leavitt (1868-1921) as she fearlessly asserts herself in the male-dominated world of early astronomy. Hired by the Harvard Observatory as a human "computer" to catalog the stars, Henrietta's story plays out against a landscape of early feminism and universe-revealing science, reminding us all what we can achieve when we allow curiosity and wonder into our lives.

Here are just a few of the reasons we think Henrietta's story is so important for audiences to see:
Without Henrietta's work with variable stars, our view of the universe would be completely different.  Henrietta's work allowed astronomers to measure the distances between Earth and distance objects in the night sky. As a result, Edwin Hubble (yes, THAT Hubble) was able to discover that the universe extends beyond the Milky Way Galaxy and that there are in fact thousands and thousands of other galaxies out there. These findings, published only a few years after Henrietta's death, fundamentally changed the scientific view of the universe and ensured Hubble's place in the history books.
She made all her discoveries while almost entirely deaf.

 After her graduation from Radcliffe College in 1892, Henrietta contracted a serious illness that took most of her hearing. Despite this, in 1895, she began work at the Harvard College Observatory as a human "computer" under Edward Pickering unpaid. Henrietta's colleague at the Observatory and friend, Annie Cannon, was also nearly deaf as the result of scarlet fever.

She received very little recognition in her lifetime.  While many of her colleagues recognized her brilliance, the only official honor Henrietta has received from the scientific community was the naming of a crater on the Moon and an asteroid after her. Swedish mathematician Gösta Mittag-Leffler considered nominating her for the Nobel Prize in Physics in 1926. However, Harlow Shapley, the head of the Harvard Observatory at the time, informed Mittag-Leffler that Henrietta had died three years prior, suggesting that it was truly his (Shapley's) own interpretations of her findings that should be honored.

"We are still in the unfortunate rut of under-opportunity and under-representation for women in the sciences and tech," Silent Sky playwright Lauren Gunderson said. "This play aims to expose and challenge that angering trend with a true story of a woman who changed the course of astronomy and, to the extent that astronomy defines us as a civilization, human life. And she did it in a room with several other brilliant but underpaid, sequestered, unappreciated woman mathematicians who were not allowed to even use the telescopes that the men could."
Silent Sky runs Thursdays, Fridays and Saturdays at 8 p.m. and Sundays at 2 p.m., Aug. 25 through Sept. 10. Two preview performances take place on Wednesday, Aug. 23 and Thursday, Aug. 24, both at 8 p.m. Tickets are $47 on Thursdays and Fridays, and $49 on Saturdays and Sundays, except for Aug. 25 (opening night) for which tickets are $55 and include a post show reception at Utopia Restaurant. Low-priced tickets to previews are $35. International City Theatre is located in the Long Beach Performing Arts Center at 330 East Seaside Way in Long Beach, CA 90802. For reservations and information, call 562-436-4610 or go to ICT's Website