December 4th, 2017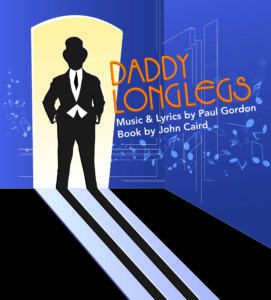 Based on the classic novel that inspired the 1955 movie with Fred Astaire, International City Theatre is thrilled to be starting our 2018 Season with a heartwarming new musical, Daddy Long Legs. Having just closed Off-Broadway in June 2016, Daddy Long Legs has piqued the interest of many theatre-goers, intrigued by this historic, two person show. With an award winning score by Paul Gordon and a touching book by John Caird, Daddy Long Legs is a Cinderella story perfect for the whole family.
Jerusha Abbott is the oldest orphan in the John Grier home until a mysterious benefactor decides to send her to college to become a writer. Required to write him a letter once a month, she is never to know the benefactor's identity – so she invents one for him; Daddy Long Legs. Although she knows that he will never respond to her letters, so grows fonder of this elusive kindly "old" gentleman. Yet, there is one startling fact that Jerusha has yet to uncover – a fact that will change her life forever. Daddy Long Legs is a beloved rags-to-riches tale of newfound love, in the spirit of Jane Austen, the Bronte Sisters, and Downton Abbey.
Daddy Long Legs opened Off-Broadway at the Davenport Theatre in 2015, and close June of 2016 after 309 performances. During their run off-Broadway, Daddy Long Legs made theatre history on December 10, 2015 by being the first production, on or off Broadway, to be live-streamed from New York City. While the production didn't hit the New York scene until 2015, Daddy Long Legs first premiered at the Rubicon Theatre in California in 2009. Before making it Off-Broadway, Daddy Long Legs was taken to London (West-End), Tokyo, & Canada where they show was well-received among audiences everywhere. After closing Off-Broadway, Daddy Long Legs also had three month run in Seoul, South Korea, and continues to be performed in regional theaters around the globe.
Daddy Long Legs has earned itself 13 award nominations, including Best New Musical, and 4 awards, including The Drama Desk Awards 'Outstanding Book of a Musical' in 2016. In addition to their awards and accolades, Daddy Long Legs has been charming audiences of all ages, all across the world and ICT's production will certainly be no exceptions. Daddy Long Legs will perform at the Beverly O'Neill Theatre at Long Beach Performing Arts Center from February 21st-March 11th, 2018. To buy tickets or inquire about season subscriptions, please visit www.InternationalCityTheatre.com or call the box office at 562-436-4610.