January 14th, 2013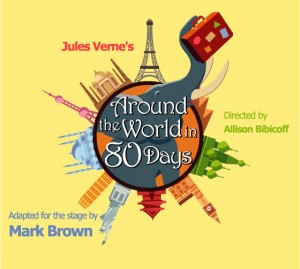 As a professional, regional nonprofit theatre, International City Theatre takes its role seriously.  As a servant of the community, ICT strives to increase the quality of life for all through cultural enrichment and education. This year ICT has created a new initiative for high school students to introduce them on a regular basis to the performing arts.  Students 18 years old and younger can attend the final Tuesday night dress rehearsal of all five ICT 2013 plays for free.
Beginning with the 28th season opener – "Around the World in 80 Days" – this exclusive offer is for students 18 and younger and allows them to experience professional theatre at no cost.  ICT has given up their Tuesday night previews to provide this opportunity to students.  The goal is to help fill the void to recent cuts in arts education and nurture a creative outlet and creative thinking to inspire future artists, audiences, inventors, entrepreneurs, scientists and leaders.
In this fun-filled adaptation of the classic adventure by Jules Verne, it's 1872 and Phileas Fogg has agreed to an outrageous wager that puts his fortune and life at risk. Will he circle the globe in an unheard-of 80 days, or will the cunning Detective Fix dash his hopes? Danger, romance and comic surprises abound as five actors portraying 39 characters traverse seven continents.
The final dress rehearsal will be held on Tuesday, January 22, at 730 pm. Any interested student (age 14-18) may attend; advanced reservations are required (and student ID).   To RSVP, please contact Erik Garcia at 562.495.4595 or erik@ictlongbeach.org. Parking is $10 in an adjacent structure.
"Around the World in 80 Days" runs January 23 – February 17 at International City Theatre, with performances at the Long Beach Performing Arts Center. For tickets, call 562-436-4610 or visit www.InternationalCityTheatre.org.