September 2nd, 2011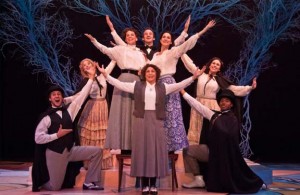 As the new Artistic Director of International City Theatre, it is important that caryn desai's first season signal her vision for the company, and that vision seems to be off to a fantastic start for Long Beach's resident professional theatre company.
The season theme – "Adults behaving badly … unless they Ain't." This season is running on all cylinders, an explosion of incredible entertainment.  ICT's 2012 season includes two Tony Award-winning plays, two West Coast Premieres and a new comedy by one of Broadway's leading comic writers. The 2012 ICT season is as follows:
God of Carnage
January 24 – February 19
Here's your chance to see this 2009 Tony Award-winner for Best Play in a more intimate setting!
The Fix
April 24 – May 20
See the West Coast premiere of a hard-edged, hard-boiled rock musical about the American political machine and Washington's most dysfunctional almost-first family.
Leading Ladies
June 5 – July 1
A rollicking comedy from Ken Ludwig about two down-on-their-luck actors who dress as women to con a dying woman out of her millions
Ghost-Writer
August 21 – September 16
In this West Coast premiere acclaimed novelist Franklin Woolsey has died, but his devoted secretary remains poised at her typewriter – waiting to channel the words that will complete his masterpiece.
Ain't Misbehavin'
October 9 – November 4
Visit the Golden Age of Jazz in this Tony Award-winning musical revue based on the life of Thomas "Fats" Waller.
ICT is one of the most affordable professional theatres in Southern California.  This award-winning company is making the season even more appealing.  If you subscribe before September 30, ICT will pay your parking for the year – a $50 savings!
For more information on the theater schedule or to purchase subscriptions, call (562) 436-4610 or go online to www.InternationalCityTheatre.org.