March 31st, 2017
Uncanny Valley playwright Thomas Gibbons was sitting in the waiting room of a dentist's office in August of 2011 when he noticed an article in the National Geographic magazine sitting on the table. The article mentioned Bina48, an uncannily realistic humanoid robot designed to look like a real human being named Bina Rothblatt, cofounder of the company who created Bina48.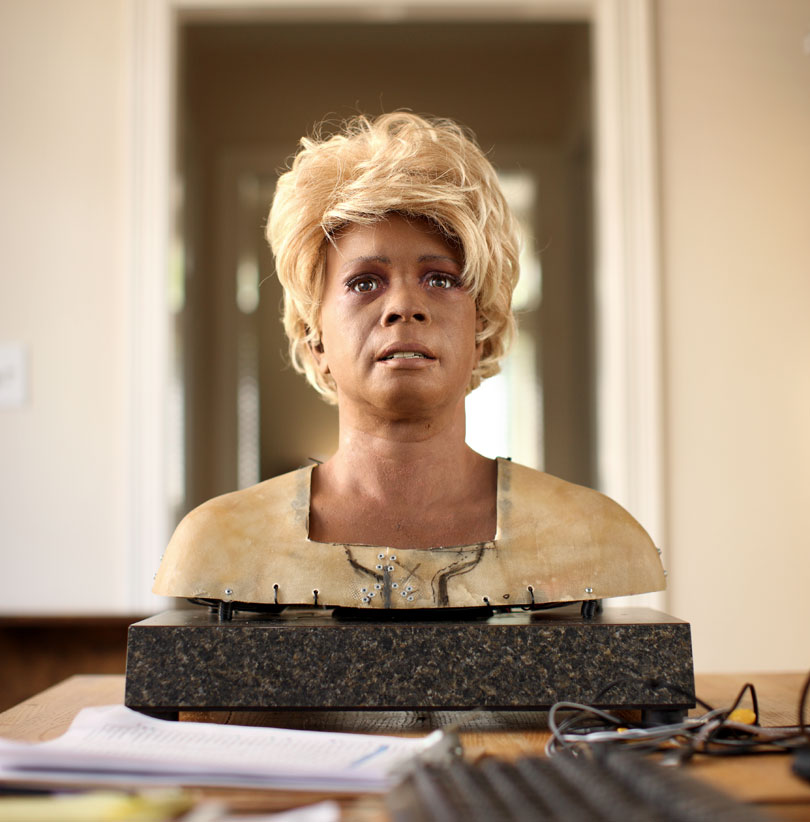 Bina48 is capable of having conversations with humans, and her conversational speech is eerily advanced. You can see a clip of her in conversation below.
The description of Bina48 on LifeNaut's website states, "As an "ambassador" for the LifeNaut project, Bina48 is designed to be a social robot that can interact based on information, memories, values, and beliefs collected about an actual person." This is a place where the story of Bina48 gets even stranger: you can go to the LifeNaut site right now and "upload" your brain to the internet by creating a "Mind File" which is supposed to preserve your memories and personality beyond the life of your biological body. Creepy, right?
In Uncanny Valley, we see a robot come to life piece by piece, starting as just a head and shoulders, much like Bina48. Uncanny Valley charts the relationship between Claire, a neuroscientist, and Julian, a highly advanced robot. As Julian is "born" a few body parts at a time over the course of the play, Claire teaches him how to be as human as possible.  Claire educates him in techniques of being as human as possible including mirroring people's speech, engaging in small talk, playing a musical instrument.
As the play progresses, we explore the painful divide between creator and creation and how we are redefining what it means to be human in the twenty-first century. This humorous and thought-provoking play raises some interesting questions. Â Is it possible for a robot to have or understand feelings? Â Â Are feelings and emotions what make us human? Â What is the future of life as we know it?
---
International City Theatre is located at the Beverly O'Neill Theater at the Long Beach Performing Arts Center. Uncanny Valley runs from April 19 – May 7.  Show times are Thursday through Saturday at 8 pm and Sunday at 2 pm.  Regular tickets are $35 – $55. For tickets, call 562-436-4610 or buy online at www.InternationalCityTheatre.org