June 25th, 2014
International City Theatre is excited to introduce Milena Tonis, our Summer Marketing & Development Intern. She will be working with us this summer thru the Los Angeles County Arts Commission Internship program.
Hello theatre buffs! My name is Milena (Mee-leh-nuh) and I am ICT's new summer marketing and development intern. I was born and raised in Sacramento, but I transferred to Cal Poly Pomona as a music major this past fall. I've been singing since I was seven, and I was a snare drummer in my high school's drum line for two-and-a-half years.
I'm half Serbian and half Greek, and I've been in both cultures' traditional dance groups and performed as the lead singer of a Serbian folk band. (I don't speak Serbian, but fortunately I know how to make it sound like I do!) I have been at ICT for a week now, and on my first day, I didn't know what to expect. I was pretty nervous, especially because I started work a week later than ICT's other summer intern Kaitlyn – I felt like the only newbie! I tend to be introverted, and when I'm placed in a new environment, I feel more comfortable observing than talking at first. So when I walked through the door, I was expecting to just do my work to the best of my ability and not really talk to anyone too much.
But I got a really nice surprise – everyone at ICT is so friendly and approachable! Kaitlyn showed me around the office, and although I still felt like the only real newbie, I felt comfortable with going to her if I had any questions. On Thursday, everyone surprised development associate Mindy with cake, flowers, and a gift for her birthday. We all sang "Happy Birthday" and then ate cake and talked in the conference room for a little while. I've realized in the week that I've been here at ICT that it isn't just about running the theatre, it's also about valuing the people who run it. The people at ICT really care about each other and support each other, and I am thankful to be working in such a positive environment.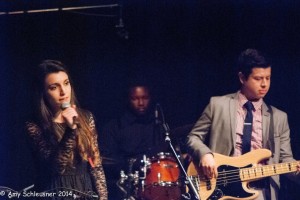 But, there is still much more to be said – it IS only my first week! Tune back in every week for a new post by me about what's new with ICT. In the meantime, if you like music, check out my version of Josh Groban's "You Raise Me Up" here:   Enjoy! – Milena