September 24th, 2015
It says quite a bit about one's prestige when an award-winning stage director wants to create and produce a biographical musical about someone's life while said person is still living.
International City Theatre's next and final production of the season, James Lapine's Sondheim on Sondheim, highlights Stephen Sondheim's personal life and professional success and struggles through a blend of interview footage and Sondheim's original music.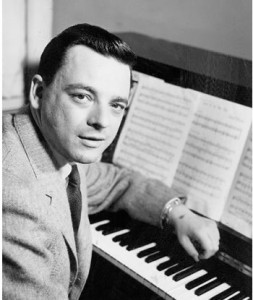 "If people have split views about your work, I think it's flattering. I'd rather have them feel something about it than dismiss it," Sondheim once said.
Though Sondheim's career has had its ups and downs in acceptance and public interest over the course of its 43 years, denying his genius would be a difficult argument to make. If someone's getting a biographical musical in their lifetime, it's going to be Stephen.
Sans subjectivity, no one can deny the sheer quantifiable wins in Sondheim's corner. Starting with his first award, a Tony for Best Musical with A Funny Thing Happened on the Way to the Forum in 1963, he has since received one Academy Award, eight Grammy Awards, a Pulitzer Prize in drama for Sunday in the Park with George, a Laurence Olivier Award and seven more Tony's (which is more than any other composers, by the way).
Starting your professional career as a composer with Oscar Hammerstein as your mentor and the lyrics  of West Side Story in your portfolio is not a bad foot to start off on either.  Since then, Sondheim has written the music and lyrics for 25 different musicals, with 16 of them appearing on Broadway.
Even flops (yes, he shockingly had those) have been revived and revered. For example, 1990 Off-Broadway's Assassins closed after 73 performances of the original production, never making it to Broadway as anticipated.
"Assassins will have to fire with sharper aim and fewer blanks if it is to shoot to kill," stated a Time review of the original production. Cocked and loaded, the 2004 revival brought it there though, earning the play the Tony Award for best revival.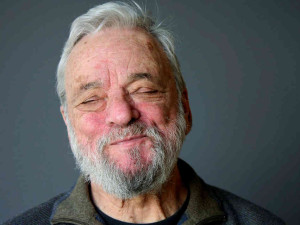 The Kennedy Center, which gives annual awards to those in the performing arts for their lifetime of contributions to American culture, named the Kennedy Center/Stephen Sondheim Inspirational Teacher Awards after him and sent out the award on March 22, Stephen's birthday. The Kennedy Center did so to honor Sondheim's 80th birthday and the impact mentorships have had on his success as well as what he has taught others.  After all, Sondheim once said, "teaching is a sacred profession. And art is a form of teaching."
If art is a way to teach, Sondheim is theatre's sensei. His lesson plan? Life. In a New York Times review of Sondheim on Sondheim in 2010, Ben Brantley wrote that it is more than Stephen's cleverness in lyrics that make him a great composer.
"It's because he senses and conveys the darker currents of pain and loneliness that swirl beneath even the shiniest surfaces," Brantley wrote. "He sees inside us. And there is something kind of Godlike about that."
Described as omnipotent, it is no wonder Sondheim would have a musical created about his life and career, and who better to compose the music than himself? The Los Angeles premiere of Sondheim on Sondheim at International City Theatre runs October 14 through November 8. For more information, call (562) 436-4610 or go to www.ictlongbeach.org