July 23rd, 2014
Back in the day, people used to dress up for the theatre like celebrities today dress up for award shows – evening gowns, tuxedos, the whole shebang. People were all about manners and class. Nowadays, life is so much more relaxed. People wear pajamas to the grocery store, and they text while they're having dinner with other people. Although life has definitely changed, theatre has maintained its professionalism and high esteem, making audience etiquette at the theatre still very necessary.
Audience etiquette encompasses many different areas, but these are the main things to keep in mind:
– Nowadays, you can usually dress a bit more casually to the theatre. (That does not mean a baggy shirt and shorts!) Don't wear hats – they can obstruct the view of the person behind you. Guys, wear your nicer shoes, not your sandals. The main thing to remember about appearance is to be clean, nice, and neat. Take a shower, do something nice with your hair, and put some effort into picking out a decent outfit!
– To ensure a good start to your (and everyone else's) theatre experience, make sure to get there at least 15 minutes early to account for any unexpected delays such as trouble parking or a long line at the box office.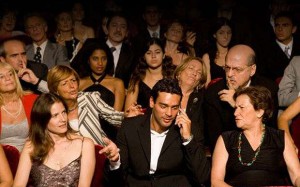 Cell phones – turn them off! Don't text: the light beaming from your cell phone is just as distracting as a ringtone going off in the middle of a performance. It distracts not only the people around you, but also the actors who are then hindered from giving you their best performance. No one gets their money's worth if the actors can't focus.
– DO NOT TALK DURING THE SHOW. It's disruptive and rude to both the audience and the actors. Save the conversations for after the show.
– As far as food and drink, crunching on a sandwich and chips while a character is delivering an emotional monologue is not a good mix. Eat before the show or during intermission.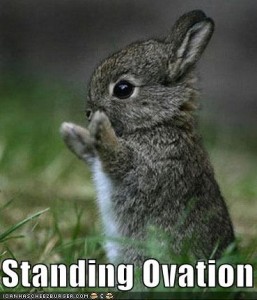 – Clapping is appropriate in between acts or sets, and standing ovations are reserved for only the best performances. Don't feel pressured into giving a standing ovation just because other people are doing it.
– Getting up during the show is very distracting. Use the restroom before the show starts or during intermission.
– Don't leave early, which means don't leave during curtain call. Curtain call is a part of the performance for which the actors have rehearsed, and it is only fair that you give them the same respect that they gave you through their dedication to give you the best performance possible.
The main thing to remember about etiquette at the theater is to sit down, be quiet, and focus on the show. Theatre patrons can spend upwards of $50 on a ticket, and in return they expect a quality performance. Also, your actions affect how the actors perform, so disruptions can actually diminish the show's quality. The theatre requires your best behavior, but in return you receive the gift of true art. So be quiet, be respectful, and enjoy the show!
– Milena