May 6th, 2013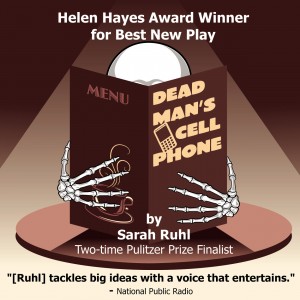 We are working to cultivate the next generation of theatregoers. At a time where arts education is slashed and fewer youth are being introduced to professional theatre, we are offering high school students free admission to two preview performances of every 2013 production.  Next up is the Helen Hayes Best New Play winner, Dead Man's Cell Phone, by two-time Pulitzer Prize finalist and MacArthur "Genius" Award recipient Sarah Ruhl.
We understand that a well-rounded education includes an appreciation and understanding of the arts. Arts education fosters creativity and creativity fuels the development of not only future artists, but future researchers, scientists, entrepreneurs and inventors.
Special performances of Dead Man's Cell Phone for high school students are on Wednesday, June 5, and Thursday, June 6, at 8:00 PM at the Long Beach Performing Arts Center, 300 E. Ocean Blvd.
The play begins with an incessantly ringing cell phone in a quiet cafe. A stranger at the next table has had enough. And a dead man who has a lot of loose ends. It is the outlandish odyssey of a woman forced to confront her own assumptions about morality, redemption and the need to connect in a technologically obsessed world.
This is a chance for teenagers to see a professional, Broadway-quality play for free.  It is a chance for parents to expose their children to an academic field that is not given enough attention in school.
If you are a high school student and want to attend on June 5 or 6, reservations are required. To RSVP, please contact Erik Garcia at either 562.495.4595, x13, or erik@ictlongbeach.org.
Dead Man's Cell Phone runs June 5 through June 30. To purchase tickets, call 562-436-4610 or visit www.InternationalCityTheatre.org.