April 24th, 2013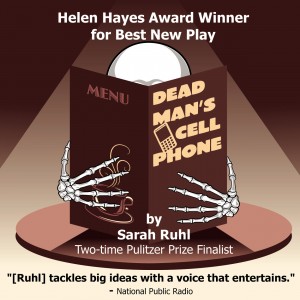 Dead Man's Cell Phone
Premise: A lonely woman is forced to confront her assumptions about morality, redemption and the need to connect in a technologically obsessed world as she steps into the life of a dead man by taking his cell phone calls. What starts as a moment of frustration quickly turns into a bond of curious loyalty when Jean finds herself caught in the middle of another's man tangled web of relationships and family. Acting as his mouthpiece, Jean soon discovers different types of connections that go beyond the physical, tapping into the psychological, the emotional and even…the afterlife.
Cast: A talented collection of individuals that can be both humorous yet genuine, quirky but believable.
Under the steady direction of award-winning director Richard Israel, ICT is happy to announce the cast of Dead Man's Cell Phone, the Helen Hayes winner for Best New Play by two-time Pulitzer Prize finalist and MacArthur "Genius" grant recipient Sarah Ruhl.
The ICT production stars Alina Phelan as Jean. She previously appeared here in All in the Timing.  She has also won a Garland Award winner for her portrayal of Hamlet in Hamlet: The First Quarto at Theatre of Note. Joining her will be Trent Dawson, who will play both Gordon and Dwight. His resume included appearing on Broadway in The Herbal Bed,  and Off Broadway in Macbeth and Brothers in Crime. He also earned three Emmy Nominations for his role as Henry Coleman on As the World Turns.
Susan Diol, who will play the role of Hermia, has been seen in You Never Can Tell at Circle in the Square with Uta Hagan and Victor Garber and Opera Comique at the Kennedy Center with Eli Wallach.  Heather Roberts will play The Other Woman. Her past credits include Juliet in Romeo and Juliet at the Ark Theatre and Twelfth Night at A Noise Within. Rounding out this fine cast is  Eileen T-Kaye. She has previously been seen at ICT in Death Defying Acts, Black Comedy, On the Twentieth Century, Cabaret and The Threepenny Opera; and was acted at the Geffen in Coney Island Christmas.
The title alone is reason enough to come see this play. If you need other reasons, simply scroll up to see the talent that is about to bring to life this incredible story. That should do it for you!
For tickets to see Dead Man's Cell Phone at International City Theatre, please call 562-436-4610 or visit www.InternationalCityTheatre.org.