January 13th, 2011
Allison is a wonderful new talent who will hit the stage in our upcoming West Coast premiere musical, Loving Repeating … A Musical of Gertrude Stein, as Woman 2. She has been busily preparing for the show's opening, but she was able to find some time to answer some questions for our ICT audience.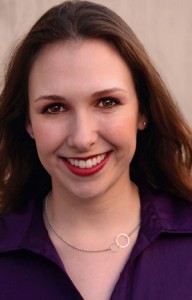 What is your educational/training background?
I started out thinking I was going to be a ballerina.  At about 3 years old, my parents signed me up for dance class.  As I grew up taking ballet, I couldn't wait to get my pointe shoes!  When I finally turned twelve, I got them and soon thereafter started having all kinds of awful issues with my feet.  I discovered theatre when I was about 11, and quickly traded in my pointe shoes for singing lessons and.  I went on to attend the Academy for the Performing Arts at Huntington Beach High School and then went to Cal State Fullerton, where I graduated from their Musical Theatre B.F.A. program.
Favorite roles and/or productions you have been a part of?
I have to say that my two favorite roles that I have played were Mary Detweiler in How the Other Half Loves by Alan Ayckbourn (at the Long Beach Playhouse Studio Theatre) and Polly in The Gut Girls by Sarah Daniels (at Cal State Fullerton).  Funny enough, both of those are "straight" plays (as opposed to musicals).  I've found that it's harder to find truly "meaty" roles in a lot of musicals.  I think that it's changing, and Loving Repeating is such a beautiful example of real people– real characters that the actors can really sink their teeth into.  That includes the ensemble, which is truly rare!
Favorite plays or musicals that you have not been a part of?
With plays, I'm not sure… there are so many "greats" to choose from.  I'd have to say that one of my favorites I've seen is The Diviners.  I also saw a brilliant production of Measure for Measure done by the Royal Shakespeare Company when they toured and performed at Royce Hall.  With musicals, my hands-down favorites are Ragtime and Once on This Island (both composed by Stephen Flaherty)!  The most amazing theatre experience I've ever had though was with Deaf West's production of Big River.  I was so moved that I was speechless the entire drive home (which, if you know me, is quite an anomaly).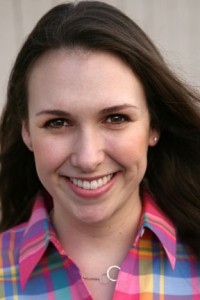 Favorite part of being a Los Angeles      stage actor?
It's such a small community.  It's amazing how quickly you get to know everybody out here through auditions and productions.  Even with cast mates who I don't know at the start of rehearsals, I constantly come to find that they know friends of mine through other productions.  It is definitely a small world!
Why do you love theatre?
"Let me count the ways."  For one, I love the collaborative process.  When you get a bunch of crazy talented brains together, amazing things happen!  But also, I have not experienced any other way to so immediately connect deeply to another human being.  There is something magical about sharing that moment of connection right there with your audience.  Every night is a little bit different in who you are as a person and what you bring to that character.  And when you tell the story with tenderness and truthfulness, there will be something in it that someone in the audience will connect to deeply (I know because I've been that audience member many times).  And there is nothing like it.  Theatre reminds me of what it is to be human.
What if anything would you change about theatre today?
Hmmm that's a toughy.  Well, I guess it would be nice if it was more like a normal career in that it is pretty tough to make a living at doing theatre.  We all study and work so hard to do what we do and we have so much passion for it,  but even some of the most talented actors out there are still living in poverty.  It's very hard to have your degree and still have to take minimum wage jobs to pay the bills. Whenever hard times hit, the first government spending that gets cut is the arts.  And when people are unemployed, the first thing they cut from their budget is entertainment.  It's tough times for everyone.
How are you preparing for your role in Loving Repeating?
Praying.  No, just kidding.  We're all just rehearsing like lunatics to get the complicated music down and then to be able to marry the movement to the song.  Finally we're beginning to be able to live it and love it and are "loving repeating" it.  See what I did there? I'm also doing research on Gertrude Stein and the people who she wrote about (specifically for my purposes, the two women on whom she based "Helen Furr" and "Georgine Skeene").
What do you love most about Loving Repeating?
The music is just gorgeous.  I knew it would be when I saw Stephen Flaherty's name.  He is probably my favorite musical theatre composer and when I saw the audition notice for this production, I got super excited.  Also, the story this musical tells is so beautiful and Shannon and Melissa are just doing an exquisite job at bringing that rich, soulful relationship to life.
Upcoming projects?
I'll let ya know when I have time to start auditioning again!
See Allison and the rest of the cast of Loving Repeating when it opens January 18. The show will run until February 13. To get your tickets, call the ICT box office at 562.436.4610 or visit www.InternationalCityTheatre.org.