January 14th, 2011
Tyler is a familiar face to ICT audiences, having played Victor in ICT's Cabaret a few seasons back, and you will see him again in our upcoming West Coast premiere musical, Loving Repeating … A Musical of Gertrude Stein, as Man 2. He has been rehearsing like mad to prepare for the opening, but we were able to pull Tyler away for a little while so he could answer some questions for our ICT audience.
What is your educational/training background?
I did not go to any form of formal education in the arts. I have, however, been studying voice and music theory for two years now with Leonard Coduti, a local musicologist and former member of Opera Pacific.
Favorite roles and/or productions you have been a part of?
One of my favorites was my 'big break', where I actually began thinking "maybe I could do this."and I played the Lion in the Wizard of Oz. The grandest, toughest thing I've ever done would probably be the title role in Barnum. Some other favorites have been: Anthony in Sweeney Todd, Hero in …Forum, and Victor' in ICT's production of Cabaret.
Favorite plays or musicals that you have not been a part of?
This is a toughie but going off the cuff, some of my favorites are West Side Story, Company, Parade, 12 Angry Men, and Sweeney Todd. Obviously, I am a fan of light-hearted stuff.
Favorite playwrights/composers/lyricists?
This is a fairly long list so I am going to try and say them all in one breath : Stephen Sondheim, Aaron Copland, Leonard Bernstein, Kander and Ebb, Burt Shevelove,  Larry Gelbart and the Sherman Brothers. I wanted to say a lot more but I ran out of breath.
Why do you love theatre?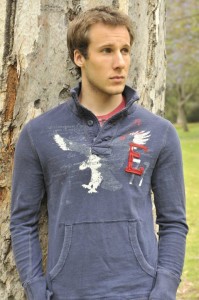 It's nice to take on a different identity once in a while.
What if anything would you change about theatre today?
I'd like it to be back in schools, thank you very much!
Strangest or funniest thing that has happened to you while performing live or in an audition?
This may well be an inside joke for those who have seen of Funny Thing Happened on the Way to the Forum, but I was playing Pseudolus in a production of Forum in Northern California, and during the reprise of "You're Lovely," right before handing the "Ring with the Gaggle of Geese" to Hysterium, I made a rather emphatic gesture, launching the ring off of my finger and into the audience. It might not of been so jarring if the ring wasn't the one necessary object needed to conclude the story. By good fortune, I managed to peg my dear loving cousin in the head, and she promptly returned the ring to the stage.
How are you preparing for your role in Loving Repeating?
Actually, the majority of my musical and artistic studies for this show are of Paris in the beginning of the last century, and since Gertrude Stein and Alice B. Toklas were such catalysts to the arts of that time period, I felt well acquainted with them walking into the project. As far as Ms. Steins' actual work, I have gone from mildly aware to outrageously intimidated to incurably affected and fond of it. That being said, this rehearsal process has hung primarily in the "outrageously intimidated" section and has called for a lot of "'at home" work as far as memorizing is concerned because of her extremely "cubist" writing. Throw that in with Stephen Flaherty's alluring yet complex music under the direction of Darryl Archibald, the delicately woven story by caryn desai and the poignant choreography of Heather Castillo, and if I make it out of this alive, I will be thrilled.
What do you love most about Loving Repeating?
It's been challenging, extremely different, and in the end it is a truly beautiful piece. I am very honored to get to work with this talented cast in order to put it up on its feet!
Upcoming projects?
After this, I am off to work with Richard M. Sherman and Milt Larson in Pazzazz!. Apart from that, I will be continuing with my painting and other artistic pursuits (www.millironstudios.com).
See Tyler and the rest of the cast of Loving Repeating when it opens January 18. The show will run until February 13. To get your tickets, call the ICT box office at 562.436.4610 or visit www.InternationalCityTheatre.org.