February 9th, 2011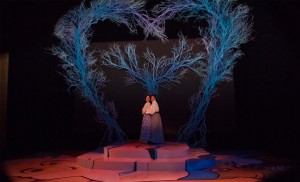 As a new month begins, you look at your calendar and plan out everything you will do over the course of that month. However, if that month is February, you are only worried about one day on your calendar – Valentine's Day. If you are married or have a significant other, you are worried about where to go and what to do. If you are single, you are trying to find someone to celebrate with so that you can worry about where to go and what to do. International City Theatre seems to understand your pain and has created a wonderful Valentine's Day package for you and your loved one.
On Saturday, February 12th, you can spend a wonderfully romantic evening with your loved one courtesy of ICT. You will begin with a delicious three-course meal prepared by SAVOR in a lovely romantic setting within the theater lobby. After dinner, you don't have to worry about getting in your car and paying parking again to go somewhere else. Instead, you will simply walk into the theater from the lobby and attend a performance of ICT's new critically acclaimed musical, Loving Repeating . . . A Musical of Gertrude Stein.
The other worry that people seem to have with this holiday is money, and rightfully so because the cost of a night out to celebrate Valentine's Day can become very expensive very quickly. International City Theatre still understands your pain and has made this entire magical evening only $129 per couple.
See, now you have nothing to worry about. We promise that this will be one Valentine's Day that you will not forget!
For more information or to purchase your Valentine's Day package, call International City Theatre at 562-436-4610. You may also visit www.InternationalCityTheatre.org for more information about ICT's current hit production – Loving Repeating . . . A Musical of Gertrude Stein.