May 14th, 2015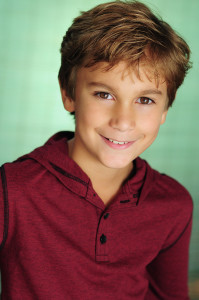 Jace Febo may only be 11 years old, but he is no stranger to acting and is currently starring as part of the cast of International City Theatre's current production Abigail/1702. He was kind enough between performances to answer some questions for us about the show and his career.
1. How long have you been acting, and what do you love about it?
I've been acting professionally for about 2 years. I love meeting new people and building Theatre families. Performing is my passion. I also love to sing.
2. Since the show has opened, what has your experience at ICT been like so far?
Great! I love my fellow cast mates.
3. What have you learned from being part of a show such as Abigail/1702 that is new and allows you to really create a new character?
I've learned how to project my voice because there are no mics. I'm having fun creating Thomas, the character I play in the show.
4. Is it difficult being part of a cast where you are the youngest by many years, and if yes, what is so difficult? If no, why not?
No, I love it! Being the only kid is great! I get treated nicely.
5. What play or book might you want to see an imagined sequel to?
I love the book Where The Red Fern Grows, so I think a follow-up to that would be exciting to see.