May 8th, 2015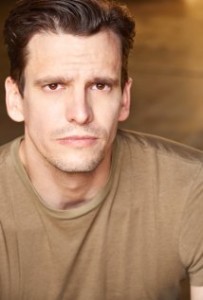 1. As you head into the opening of the show, how has your experience at ICT been so far?
My experience with ICT has been fantastic. Theatre is a collaborative art form, and everyone I've met here has been incredibly talented, hardworking, and a joy to be around. Going to work here is something I look forward to every day.
2. What do you hope audiences take from Abigail/1702?
While rehearsing the play, I grappled with questions about redemption. I hope audiences find themselves examining similar themes. I hope they are entertained, have something exciting to discuss after the show, and enjoy looking at Arthur Miller's The Crucible from a fresh, new angle. And for those who aren't familiar with Miller's play, I hope they are inspired to go and give it a look.
3. You play John Brown, who acts as a love interest to Abigail as well as a catalyst for exposing Abigail's past. Which parts of your character can you relate to and which can you not?
John Brown has an intriguing past of his own that gets exposed through the events of the play. Without spoiling anything here, I'll just say that his personal history is very different from my own past and has been interesting to explore. The themes of judgment and forgiveness run throughout this play. We are often harshest when we judge ourselves, and sometimes the way to self-acceptance comes through helping a loved in their own battle for forgiveness. I think that's something many of us can relate to.
4. The play involves aspects of the supernatural quite a bit. What are your thoughts on the supernatural? Do you believe in it, and if so, why?
The jury is still out on the supernatural. I think there are things we can't explain, and we do our best to make sense of them; however, I doubt anyone has all of the answers. The fun thing about performing in a play featuring supernatural elements is the process of figuring out what the rules of the world are and then recklessly throwing yourself into that world with absolute faith. And when your character's faith is shaken partway through because he or she had made incorrect assumptions about those rules, that can be fun too.
5. What play or novel might you want to see an imagined sequel to? Â 
I've always thought that it would be fun to look in on Kate and Petruchio about five years after the events of The Taming of the Shrew. Are they happy? Are they the ultimate power couple? If the world threw some crazy, seemingly-insurmountable problem their way, how would they conquer it? Because you know they would conquer it.